Pense-En-Ville can be used in two ways: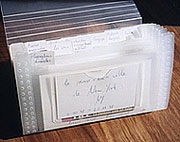 a) The Pense-En-Ville "organizer" allows you to structure notes in a certain order. This structure is temporary though essential before the final one, e.g. visualizing the chapters of a book in progress.
b) The cards of the Pense-En-Ville (size 7,5x12.5cm) are used for a first analysis and contextualization of a project in order to show the general concepts or hierarchies of it.
Duration for a): Very different, e.g. Siegfried D. Ceballos used this tool during two months in New York in 1998.
Duration for b): At least two days.
Result: Set of cards (size 7,5x12.5cm) and spoken explanations.